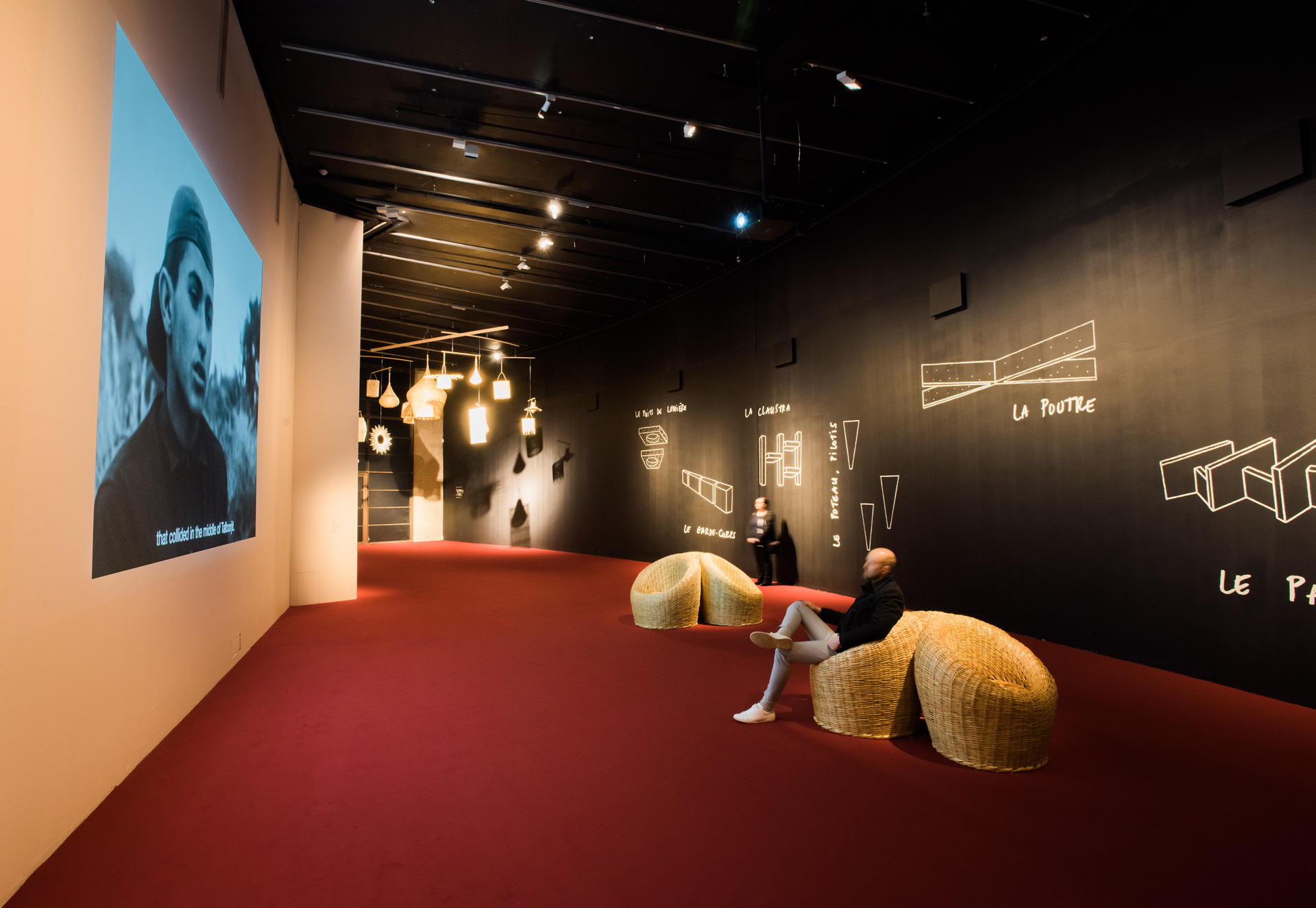 The Curve | Barbican Centre, London, 2018

Yto Barrada was born in 1971 in Paris but grew up in Tangier, Morocco. She studied history and political science at the Sorbonne and photography in New York.
The Moroccan artist works over a wide range of media including photography, sculpture, installations, textile, and video. Her extensive series and project-based practice is rooted in the culture, landscape, economy and politics of her hometown of Tangiers, Morocco. She is the founder of Cinémathèque de Tanger, a cultural center that has become a landmark institution bringing the Moroccan community together to celebrate local and international cinema.
Barrada's work has won numerous awards including the 2019 Roy R. Neuberger Prize, 2016 Tiger Award for short film and a nomination for the 2016 Prix Marcel Duchamp in Paris, the 2015 Abraaj Group Art Prize and the 2011 Deutsche Guggenheim Artist of the Year award.
Barrada's work has been shown in, and held in the collections of, major museums around the world including the Metropolitan Museum (New York), Tate Modern (London), MoMA (New York), Guggenheim (Berlin), Renaissance Society (Chicago), Wiels Art Center (Brussels), Centre Pompidou (Paris), Museo de Sao Paolo, and the 2007 & 2011 Venice Biennales. She held solo exhibitions at the Barbican Center (London), The Power Plant (Toronto), the Secession (Vienna), M Museum (Leuven), the Serralves Museum (Porto) and Carré d'Art (Nimes).
 
Selected Solo Exhibitions

2020
Every Good Boy Deserves Fudge, Sfeir-Semler Gallery Hamburg
My Very Educated Mother Just Seerved Us Nougat, MATHAF: Arab Museum of Modern Art, Qatar
2019
Paste Papers, Pace Library, New York
Yto Barrada with guest artist Bettina: The Power of Two Suns, LMCC's Arts Center at Governor's Island, New York, USA
The Dye Garden, Neuberger Museum of Art, New York, USA
Double Skin, Casa Luis Barragan, Mexico City, Mexico
Moi je suis la langue et vous êtes les dents, Calouste Gulbenkian Museum, Lisbon, Portugal
2018
Agadir, The Curve, Barbican, London, UK
The Dye Garden, American Academy in Rome, Italy
Yto Barrada: Klaatu Barrada Nikto, Aspen Art Museum, Colorado, USA
2016
Faux Guide, Sfeir-Semler Gallery, Beirut, Lebanon
YTO BARRADA, Tabakalera, Donostia / San Sebastián, France
The Sample Book, Secession Vienna, Austria
YTO BARRADA, M Museum, people Belgium
Faux Guide, The Power Plant, Toronto, Canada
2015
Carré d'Art, Nîmes, France
The Abraaj Group Art Prize, Art Dubai, UEA
Salon Marocain, The Serralves Foundation, Porto, Portugal
Faux Guide, Pace Gallery, London, UK
2014
Before Our Eyes: Other Cartographies of the Rif, MACBA, Barcelona, Spain
PARLE POUR TOI, Marian Goodman, Paris, France
2013
La courte echelle, Sfeir-Semler Gallery Hamburg, Germany
An Album: Cinématheque Tangier, Walker Art Center, Minneapolis, USA
 
Yto Barrada, Studio Cinema, Marseille, France
2012
Riffs, MACRO Museum, Rome, Italy
Ikon Gallery, Birmingham, UK
The Renaissance Society, Chicago, USA
Riffs, Fotomuseum Winterthur, Switzerland
2011
Riffs, Deutsche Guggenheim, Berlin, Germany
Wiels, Brussels, Belgium
2010
Play, Sfeir-Semler Gallery, Beirut, Lebanon
Centre de la Photographie Genève, Switzerland
A Modest Proposal, L'Appartement 22, Rabat, Morocco
2009
Göteborgs Konsthall, Goteborg, Sweden
2007
Iris Tingitana, Galerie Polaris, Paris, France
Galerie of Marseille, Marseille, France
2006
A Life Full of Holes - The Strait Project, The Kitchen, New York, USA
Jeu de Paume - Site Sully, Paris, France
Open Eye Gallery, Liverpool, UK
2005
Mead Gallery, Warwick Arts Center, USA
2004
Witte de With Center for Contemporary Art, Rotterdam, The Netherlands  
2003
Galerie Polaris, Paris, France
2001
Galerie Delacroix, Tangier, Morocco


Selected Group Exhibitions

2020
Among the Trees, Hayward Gallery, London, UK
Our World Is Burning, Palais de Tokyo, Paris, France
Mappa Mundi, Boghossian Foundation: Villa Empain, Brussels, Belgium
Botanicals, Bombas Gens Centre D'Art, Valencia, Spain
2019
Narcisse ou la floraison des mondes, FRAC Nouvelle-Aquitaine Méca, Bordeaux
When Home Won't Let You Stay, ICA Boston, USA
Collection 1970s - Present: Surface Tensions, MoMA, New York, USA
Words Are Very Unnecessary, Arter, Istanbul, Turkey
The Warmth of Other Suns, The Phillips Collection in partnership with the New Museum, New York, USA
2018
Platforms: Collection and Commissions, Walker Art Center, Minnesota, USA; 12th Gwangju Biennale: Imagined Borders, Asia Culture Center, Gwangju, South Korea
The Geological Show, Villa Sauber, New National Museum of Monaco
2017
I am you, you are too, Walker Art Center, Minneapolis (2017-2019)
NOW, Scottish National Gallery of Modern Art
Performa 17 Biennial, New York, USA
La Vie simple - Simplement la vie/Songs of Alienation, Fondation Vincent Van Gogh, Arles, France
The Thickness of Time, Locus Athens, Greece
The Restless Earth, La Triennale di Milano, Fondazione Nicola Trussardi, Milano
A thousand beasts that roar. Display devicesfor a critical modernity, Centro Andaluz de Arte Contemporáneo, Seville, Spain
2016
What People Do for Money: Some Joint Ventures, Manifesta 11, Zürich, Switzerland
Not New Now, Marrakech Biennale 6, Marrakech, Morocco
Playgrounds, MASP São Paulo, Brazil
Between Myth and Fright. The Mediterranean as conflict, Institut Valencia d'art Modern, Valencia, Spain
Prix Marcel Duchamp, Centre Pompidou, Paris, France
2015
Gallery 3010, Sfeir-Semler Gallery, Beirut, Lebanon
Liberated Subjects: Present Tense,Lijnen, Brussels
Patrimone, Tangier, Morocco
Silvia Geddes Studio, Rome, Italy
Serravles, Porto, Portugal
19th Conetmporary Art Festival, SESC, VideoBrasil, S&atildeo Paolo Highline, New York, USA
Biennale, Lyon, France
When there is hope, Phototriennale 2015, Hamburger Kunsthalle, Hamburg, Germany
Poetics of Relation, Pérez Art Museum, Miami, USA
Atoplois - WIELS @ MONS2015, WIELS, Brussels, Belgium
Liberated Subjects: Present Tense, Foundation De 11 Lijnen, Oudenburg, Belgium
playing future, Kunsthalle zu Kiel, Germany
Crossovers - A Filmic Exploration Of History, Stories And Human Remains, Art Hub, Shanghai, China
2014
Here and Elsewhere, New Museum, New York, USA
El Teatro del Mundo, Museo Tamayo, Oaxaca, Mexico
Colonia apocrifa, MUSAC - Museo Arte Contemporáneo de Castilla y León, Spain
Before Our Eyes: Other Cartographies of the Rif, David Roberts Art Foundation, Paris, France
Inventer le possible, Vidéothèque éphémère 2, Jeu de Paume, Paris, France
A History - Art, Architecture, Design from 1980s Until Today, Centre Pompidou, Paris, France
2013
PRIVATE, Progetto di otto mostre, Studio Geddes, Rome, Italy
L'Œil Photographique , FRAC - Fonds régional d'art contemporary Auvergne, Clemont-Ferrand, France
Ici ailleurs, La Belle de Mai, Marseille, France
Casablanca  - Chandigarh, Centre Canadien D'Architecture, Montreal, Canada
Provincetown International Film Festival, Cape Code, USA
13th Istanbul Biennial, Istanbul, Tukey
The Spirit of Utopia, Whitechapel Gallery, London, UK
If You Were Here To Live Here, Auckland Triennial, Auckland, Australia
Das Kind, die Stadt und die Kunst, Schmela Haus, Düsseldorf, Germany
Cross-border - Contemporary Female Artists from the Arabian Mediterranean Region, ZKM, Karlsruhe, Germany
 2012
Fiac Hors les Murs - Jardin des Plantes, Musée d'Histoire Naturelle, Paris, France
Conditions of a Moment, Hordaland Art Center, Bergen, Norway
Light from the Middle East, Victora & Albert Museum, London, UK
Fruits de la Passion, Centre Georges Pompidou, Paris, France
When Attitudes Became Form Become Attitudes, CCA Wattis Institute for Contemporary Arts, San Francisco, USA
Six Lines of Flight: Geographies in Contemporary Art, San Francisco Museum of Modern Art, San Francisco, USA
Survival Techniques: Narratives of Resistance, Museum of Contemporary Photography, Chicago, USA
Mind of System - Find the Gap, House for Contemporary Art, Hasselt, Belgium
Level 2 Gallery. I decided not to save the world, Tate Modern, London, England
Bleibender Wert? Haltbarkeit und Verfall kritischer Publizistik. Kooperation "springerin", Kunsthaus Bregenz, Austria
Abstract Possible: The Stockholm Synergies, Tensta Konsthall, ga, Sweden
Marrakech Biennial, Morocco
Photo Triennial, Palais de Tokyo, Paris, France
 2011
The Future of a Promise - 54th Venice Biennial, Venice, Italy
The World belongs to you, Palazzo Grassi - Francoise Pinault Foundation, Venice, Italy
10. Sharjah Biennial, UAE
Illuminations, - 54th Venice Biennial, Venice, Italy
Until it makes sense, Kadist Art Foundation, Paris, France
Mapping Subjectivitiy, Museum of Modern Art, New York, USA
Hauntings - Ghost Box Media, Kunstverein Medienturm Graz, Austria
You have been there - departs, bifurcations, Marian Goodman Gallery, New York, USA
The Global Contemporary. Kunstwelten nach 1989, ZKM, Karlsruhe, Germany 
 2010
Notthingham Contemporary, UK
Studio Harlem New York, USA
Riso museo d'arte contemporanea della sicilia, Palermo, Italy
Zukunft der Tradition, Haus der Kunst, Munich, Germany 
 2009
Disorientation II, Abu Dhabi, UAE
MAC/VAL Musée d'Art Contemporain Val-de-Marne, France
International Center of Photography, New York, USA
AIM Festival Marrakesh, Morocco
Harn Museum of Art Florida Project Europa, USA
Musée national d'art moderne/Centre Pompidou, Paris, France
SFMoMA, San Francisco, USA
Fowler Museum at UCLA, Los Angeles, USA
Modern Art Oxford, UK
Art Dubai, BIDOUN, Dubai, UAE
 2008
Passageworks, curated by Tara Mc Dowell, MOMA San Francisco, USA
Éclats de frontières, Frac P.A.C.A Marseille, France
Schirn Kunsthalle, Frankfurt, Germany
Museum of Modern Art, San Francisco, USA
Réflechir le Monde, Centrale Electrique, Bruxelles
Stedelijk Museum CS, Amsterdam, The Netherlands
Snap judgements, Memphis Brooks Art Museum, Memphis, USA
University of California Art Gallery, San Diego, USA
Stedelijk Museum, Amsterdam, The Netherlands
Mediterraneo 2008, Perna Foundation, Ravello, Italy 
 2007
Sfeir-Semler Gallery, Beirut, Lebanon
Galerie of Marseille, Marseille, France
Venice Biennale, Venice, Italy
Centre d'Art Contemporain, Geneva, Switzerland
Johannesburg Art Gallery, Johannesburg, South Africa
Walker Art Museum, Minneapolis, USA 
 2006
BIACS Seville Biennial, Seville, Spain
Photographers' Gallery, London, UK
Maghreb Connection, TownHouse Gallery, Cairo, Egypt
National Gallery of Canada, Ottawa, Canada
Museo Tamayo, Oaxaca, Mexico
Africa Remix, Mori Art Museum, Tokyo, Japan
Moderna Museet, Stockholm, Sweden 
 2005
Meeting Point, Stenersen Museum, Oslo, Norway
Premieres, Museum of Modern Art, New York, USA
Africa Remix, Hayward Gallery, London, UK
Snap Judgements, International Center of Photography, New York, USA
Africa Remix, Centre Georges Pompidou, Paris, France 
 2004
Africa Remix, Museum Kunst Palast, Düsseldorf, Germany
Centre National d'Art, Vassivières, France
Fabriques de l'Image, Villa Médicis, Rome, Italy
Tour-ismos, Fundacio Antoni Tapiès, Barcelona, Spain 
 2003
Travelling, commissaire Brigitte Ollier, C.P.I.F, Pontault-Combault, France
Strangers : First Triennial Exhibition of Photography and Video, ICP, New York, USA
Noorderlicht Foto Festival, Rotterdam, The Netherlands
Centre Culturel Français, Torino, Italy
Le Maroc Contemporain, H+M Hedendaags Marokko, Antwerp, The Netherlands
Galerie Claude Bernard, Paris, France 
 2002
Biennale de Turin BIG 2002, Fondation Pistoletto, Torino, Italy
Akademie Schloss Solitude (sur invitation de Catherine David), Stuttgart, Germany
in capital letters, Kunsthalle, Basel, Switzerland
Observatorio # 1, Casa Camouflage, (Curator Simon Njami), Brussels
L'Imaginaire National, Centre Régional de la Photographie, Cherbourg-Octeville, France 
 2001
Des territoires, École Nationale Supérieure des Beaux-Arts, Paris, France 
 1999
Afriques, Musée de la Photographie, Charleroi, France
Palestine in Progress, Galerie Nikki Diana Marquardt, Paris, France
Temps du Maroc, Le Carrousel du Louvre, Paris, France 
 1999
Institut du Monde Arabe, Paris, France


Works in public collections:

 
MoMA, U.S.A.; Guggenheim, U S.A.; Kunsthalle Basel, Switzerland;Tate Modern, U.K.; Centre Georges Pompidou, France; FoundationWalther, U.S.A.; Museum Moderner Kunst Stiftung LudwigWien,Austria; Caisse des dépôts et consignations, France; International Center of Photography, U.S.A.; Fonds National d'Art Contemporain, France; Musée de la Photographie Charleroi, France; Cinémathèque deTanger, Morocco, Canadian Centre for Architecture, Montreal.


Awards

 2019
Recipient Roy R. Neuberger Prize
 2016
Best Short Film Tiger Award at the Rotterdam Film Festival for FAUX DEPART/FALSE START
 2014
Abraaj Group Art Prize, UAE
 2013
Robert Gardner, Harvard University Peabody Fellowship in Photography
 2011
Künstler des Jahres 2011 / Artist of the Year 2011, Deutsche Bank
 2006
Recipient Ellen Auerbach Scholarship, Academy of Arts, Berlin
Finalist for Deutsche Börse Prize
Nominee Rolex Award