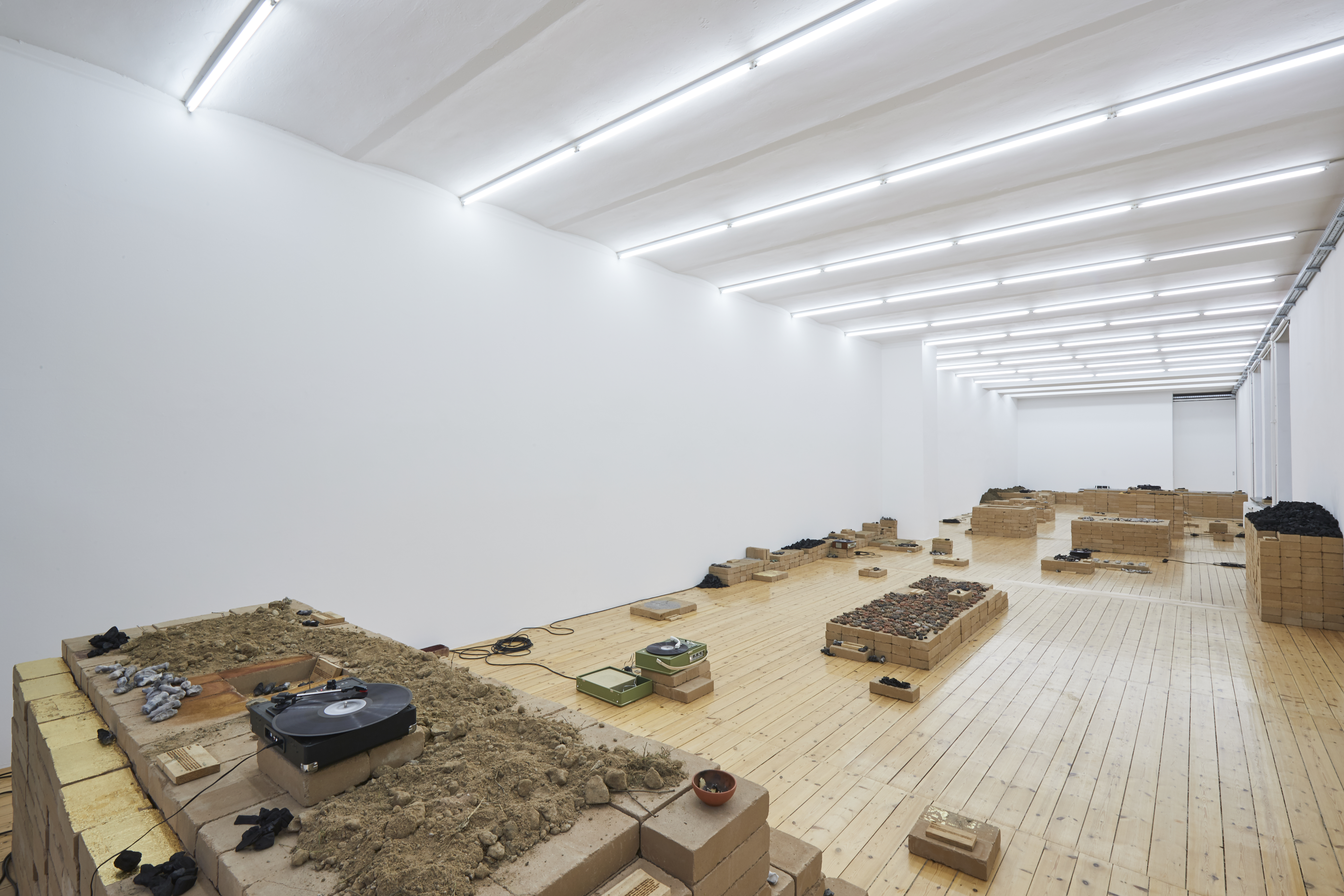 Sfeir-Semler Gallery Hamburg, 2018

Dineo Seshee Bopape (b. 1981, Polokwane, South Africa) lives and works in Johannesburg, South Africa.
Dineo Seshee Bopape was born in 1981 on a Sunday. If she were Ghanaian, her name would be Akosua/Akos for short. In the year of her birth, the Brixton riots took place; two people were injured when a bomb exploded in a Durban shopping centre. Bobby Sands dies, MTV is launched, the Boeing 767 makes its first air flight, Umkhonto we Sizwe performs numerous underground assault operations against the apartheid state. There was an earthquake in China that killed maybe 50 people. Hosni Mubarak was elected president of Egypt, there was a coup d'etat in Ghana. Princess Diana of Britain married Charles. Bob Marley dies. Apartheid SA invaded Angola. AIDS is identified/created/named. Salman Rushdie releases Midnight's Children. In the region of her birth: Her paternal grandmother died. Julius Malema is born. Millions of people cried. Millions of people laughed! The world's population was apparently at around 4,529-billion.
Bopape spent her youth in Limpopo in varying social situations. At 12 years of age she began to follow a hunger for an elsewhere, beginning with Durban where she spent some years and studied painting and sculpture. She is a 2007 graduate of De Ateliers in Amsterdam and in 2010 completed an MFA at Columbia University, New York. She was the main prize winner of the Future Generation Art Prize 2017 by PinchukArtCentre, the recipient of a 2010 Columbia University Toby Fund Award, and the winner of 2008 MTN New Contemporaries Award. She has shown her work in major and minor national and international exhibitions and is shortlisted for Artes Mundi 9 Prize by National Museum Cardiff, Wales.
Selected Solo Exhibitions

2019
Dineo Seshee Bopape: Sedibeng, it comes with the rain, Towner Art Gallery, Eastbourne, UK
2018
When Spirituality was a Baby, Collective Gallery, Edinburgh, Scotland
Lerole: footnotes. (The struggle of memory against forgetting), Sfeir-Semler Gallery Hamburg, Germany
Solo Exhibition: Main Prize winner of the Future Generation Art Prize 2017, PinchukArtCentre Kiev, Ukraine
2017
Lerole: footnotes (The struggle of memory against forgetting), Witte de With Contemporary Art, Rotterdam, Netherlands
sa kosa ke lerole, The Gallery in the Round, National Arts Festival Grahamstown, Grahamstown, South Africa
and- in. the light of this. _____, Darling Foundry, Montreal, Canada
222, PHURULLOGA, Bielefelder Kunstverein, Germany
2016
sa ______ ke lerole, (sa lerole ke ___ ), Art in General, New York, USA
Untitled [of occult instability] (feelings) Palais de Tokyo, Paris, France
2015
Slow-co-ruption, Hayward Gallery Project space, London, UK
we need the memories of all our members, Hordeland Kunst Sentrum, Bergen, Norway
2014
This is What You Will Look Like When You Die/After Ana Mandieta, August House, Johannesburg, South Africa
2013
Kgoro ya go tswa: even if you fall from a circle, Stevenson Gallery, Cape Town, South Africa
2011
lesobana!! lesobana! lesobana!! (le bulegile); lesobana! lesobana! lesobana!! (go phunyegile), Stevenson Gallery, Cape Town, South Africa
2010
Long Live the Immaterial...Effect no.55, Mart House Gallery, Amsterdam, Netherlands
the eclipse will not be visible to the naked eye, Stevenson Gallery, Cape Town, South Africa
I like to remember things my own way, Annarumma 404, Napoli, Italy
ANTRHOPHOBIA installation at ABC art Fair in Berlin, Berlin, Germany
2009
You Horrible Horrible Bitch!, Mart House Gallery, Amsterdam, Netherlands Solo Project ARCO-Art Fair, represented by Mart House Gallery, Madrid, Spain, curated by Susanne Neubauer
2008
Love Strung, KZNSA Gallery, Durban, South Africa
It's a Celebration Bitches!!!, Thami Mnyele Studio, Amsterdam, Netherlands
Non in Mind (fictions unending) dream weaver and other stories, Rotterdam Art Fair – represented by Mart House Gallery, Rotterdam, Netherlands
2007
Non in Mind (fictions unending) dreamweaver and other stories, Mart House Gallery, Amsterdam, Netherlands
2005
Keep it to Yourself, KZNSA Gallery, Durban, South Africa

Selected Group Exhibitions

2019
SOFT POWER, SFMOMA, San Francisco, USA
Co-representing South Africa: The Stronger We Become, Arsenale, Venice Biennale, Venice, Italy
Perilous Bodies, Ford Foundation Gallery, New York, USA
2018
BELIEVE, Museum of Contemporary Art Toronto, Canada
57th October Salon: The Marvellous Cacophony, Belgrade, Serbia
We Don't Need Another Hero, 10th Berlin Biennale for Contemporary Art, Berlin, Germany
2017
Future Generation Art Prize, Venice, Italy
Conundrum of Imagination, Exhibition as part of the Wiener Festwochen, Vienna, Austria
Sharjah Biennale 13: Tamawuj, Sharjah, UAE
Exhibition of shortlisted artists: Future Generation Art Prize 17, Pinchuk Art Center, Kiev, Ukraine
Blind Date, Sfeir Semler Gallery, Beirut, Lebanon
2016
Not New Now, Marrakech Biennale, Marrakech, Morocco
Incerteza Viva (Live Uncertainty), Sao Paulo Biennale, Sao Paulo, Brazil
Le Grand Balcon (The Grand Balcony), Montreal Biennale, Montreal, Canada
Apeirophobia/Aporia, Human Resources, Los Angeles, USA
Neriri Kiruru Harara, SEMA - Media City Seoul 2016, Seoul, South Korea
What We Have Overlooked, Framer Framed, Amsterdam, Netherlands
Spirit Robot, Chale Wote 2016, Accra, Ghana, West Africa
2015
The Film Will Always Be With You: South African Artists On Screen, Tate Modern, London, UK
Spatial Stories: Topographies of Change in Africa, The Center for Visual Art, Metropolitan State University of Denver, Colorado, USA
diagno: tocolo, M1, Hohenlockstedt, Germany
Avant Noir, ICA, London, UK
2014
Spring/Break, Old School, New York, USA;
Ruffneck Constructivists, ICA, Philadelphia, USA
Lightning Speed of the Present, 808 gallery, Boston University, Boston, USA
Soundscape/dispoem,Tropen Museum, Amsterdam, Netherlands
Critically Queer, Africa Center for Humanities, University of Cape Town, South Africa
Stalactica, Galerie de l'Ancienne Quincaillerie Vander Eycken, Brussels, Belgium
Nuit Blanche 2014, Toronto, Canada
The Danjuma Collection: One Man's Trash (Is Another Man's Treasure), 33 Fitzroy Square, London, UK